William G. Bush, MD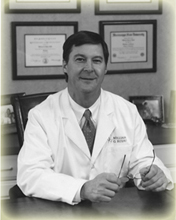 Dr. Bush grew up in Jackson.  He graduated with a Bachelor of Science degree from Mississippi State University and earned his M.D. from the University of Mississippi School of Medicine in 1985.  He completed his internship and residency at Florida State University School of Medicine and the University of Mississippi School of Medicine.  Dr. Bush is Board Certified by the American Board of Obstetrics and Gynecology.  Dr. Bush and his wife, Amy, have 2 children and live in Jackson.  While providing "state of the art" care, he specializes in obstetrics, gynecologic surgery, and infertility.  
Personal Philosophy
For 25 years, it has been my personal mission to provide high quality healthcare with the most up to date technology and procedures in a gentle and compassionate manner.  My staff and I are dedicated to your care and needs.  Providing personal attention to each patient has and always will be my number one priority.  I believe a good doctor-patient relationship is the most important way to communicate, provide, and educate my patients so they may also be involved in the decision making of their healthcare.  I will be honored to assist you in your health care needs.
Services
Dr. Bush treats a wide variety of medical problems related to today's woman, beginning with adolescent gynecology, throughout the reproductive years, and well into the menopausal years.  This includes routine and high-risk obstetrics, as well as a vast array of gynecologic services. In particular, an emphasis has been placed on being able to offer the very latest in minimally invasive gynecological procedures that produce the least amount of discomfort and the quickest recovery.  This philosophy allows his patients the best post procedure results possible, with the shortest amount of "down time".  Leading with up to date medical technology and serving with compassion, Dr. Bush continues extensive training to provide his patients with the most current minimally invasive surgeries offered today.
Office procedures
Our office is equipped with various diagnostic and treatment options so that we can offer patients a number of options within the privacy of our office.  We provide ultrasound, cryosurgery, colposcopy, bladder testing for incontinence, in office endometrial ablations, as well as routine wellness exams and Pap smears.